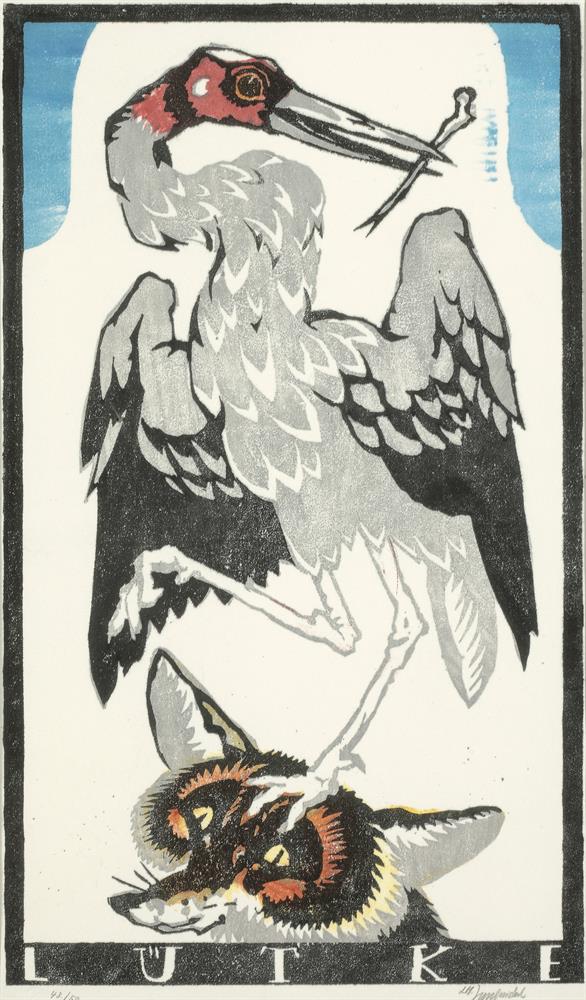 Wunsiedel, Oberfranken 1881 - 1965 Wien
Animals of the Fable "Lütke"
From the portfolio "Tiere der Fabel"
Coloured woodcut in its original mount
28.5 x 16.7 cm (image)
30 x 18.5 cm (sheet)
Numbered lower left: "48/50"
Signed lower right: LH. Jungnickel
Titled lower centre in the print: LÜTKE
Spielvogel-Bodo WV no OG.49/3
Literatur:
cf Exhibition catalogue "Oskar Laske – Ludwig Heinrich Jungnickel – Franz v. Zülow", Graphische Sammlung Albertina, Vienna 1978/79, p. 102, plate 30, cat. no. 181/5 f
cf Ilse Spielvogel-Bodo, Ludwig Heinrich Jungnickel. Ein Leben für die Kunst. Mit einem Werkkatalog der Druckgraphik, Klagenfurt 2000, ill. p. 134 ff and ill. p. 328, WV no OG.49/3
Jungnickel created an impressive finale to his artistic treatment of the venerable printing medium of the woodcut with his six pictorial representations of "Fabulous Animals" in 1917. The decorative stylization and contouring of the woodcuts of the "Schönbrunn Series" were enriched here with expressive elements. The mannerisms of mime and posture, which amongst other things manifest themselves in the longitudinal orientation of the prominently positioned animal figures, correspond to the "new representational elements oriented towards Expressionism, which intrigue through their power and naturalness" (Otto Benesch, quoted according to Spielvogel, p. 279).