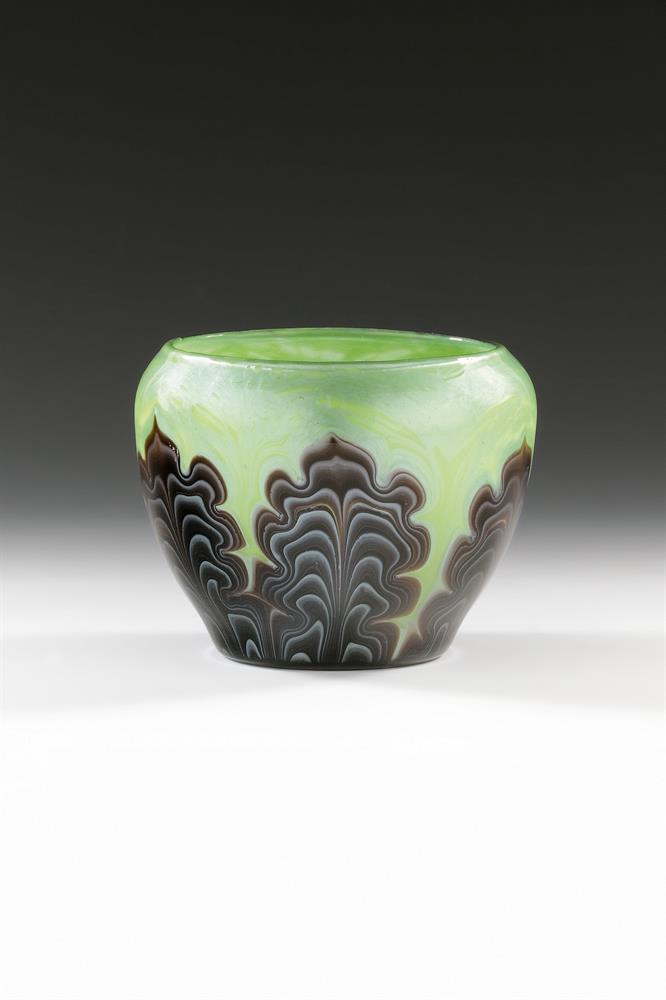 Johann Lötz Witwe, Klostermühle
Vase
Manufactured by Johann Lötz Witwe, Klostermühle
Colourless glass, may green underlayering, wall with wavily combed, leaf-shaped décor in brown, spun round with steel-grey silver threads, colourless covering layer
Décor: Titania maigrün mit braun, Gre 6388
H 13.7 cm
Literatur:
cf for the form: Helmut Ricke [et al.], Lötz: Böhmisches Glas 1880-1940. Vol. 2: Katalog der Musterschnitte, Munich 1989, ill. p. 166, series II, prod. no 3895
cf for the décor: Jan Mergl, Ernst Ploil and Helmut Ricke, Lötz. Böhmisches Glas 1880 bis 1940, Ostfildern-Ruit 2003, ill. p. 194, no 159
Die von Leopold Bauer für die Firma Lötz Witwe entworfenen Gläser bildeten den Hauptteil der Kollektion, mit der die Manufaktur Lötz die Internationale Ausstellung vom Sommer 1906 in Mailand beschickte. Die Manufaktur wurde bei dieser Ausstellung mit dem Grand Prix ausgezeichnet. Die Gläser wurden auf der anschließenden Ausstellung der Wiener Sezession Ende 1906 präsentiert und als Beispiele wertvollen Glasdesigns im "Studio Yearbook" (1907) und in "Die Kunst" (1908) publiziert.