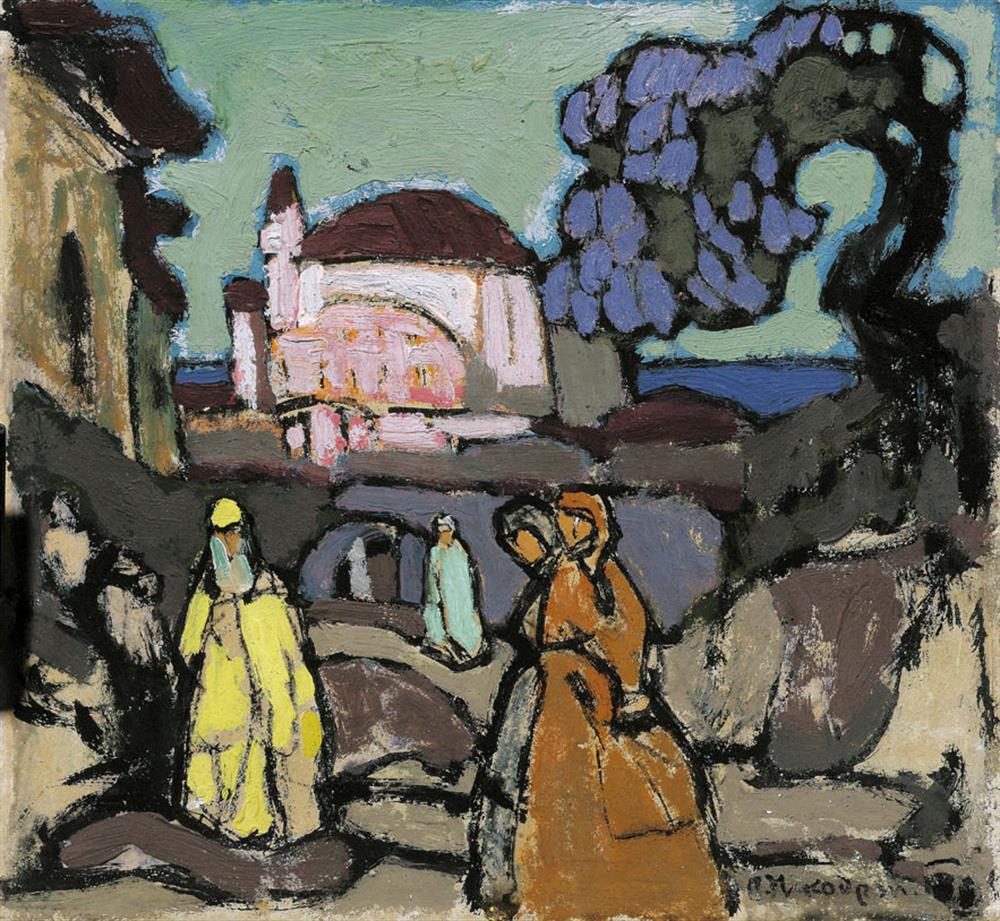 Trient 1870 - 1940 Innsbruck
Arabic Women
Fatih Camii-Mosque in Istanbul
Tempera on cardboard
24 x 26 cm
Signed bottom right a. Nikodem.
Original artist's label with the address of the artist's studio at Adamgasse 23, Innsbruck; titled: "Arabische Frauen Juli 1916"
Provenienz:
Lucerne private collection
After being drafted into the Austrian-Hungarian army in 1915 Artur Nikodem was first stationed in Sofia, Bulgaria. From 1916 to 1919 he was then commander of the telegraph division in Istanbul. During his stay in Turkey, which impressed and influenced him profoundly, he managed to vividly capture the liveliness and vibrancy of the Orient, the blaze of color of his surroundings, of textiles, carpets and majolika in his wholly idiosyncratic way.
In this particular painting Nikodem applied the color quite loosely, leaving bits of the cardboard to shimmer through, creating a beautiful snapshot of a peopled street. The beholder's eye wanders from the colorfully dressed protagonists in the foreground to the lush wisteria in the top right and to the mosque lit by the light of a sunset in the middle of the background. The turquois in one of the passer-by's gown is repeated in the sky, further structuring the painting. The crimson roofs and shades of blue mixed into the upper half of the scenery beautifully demonstrate Nikodem's fine sense for small nuances of color and atmosphere.