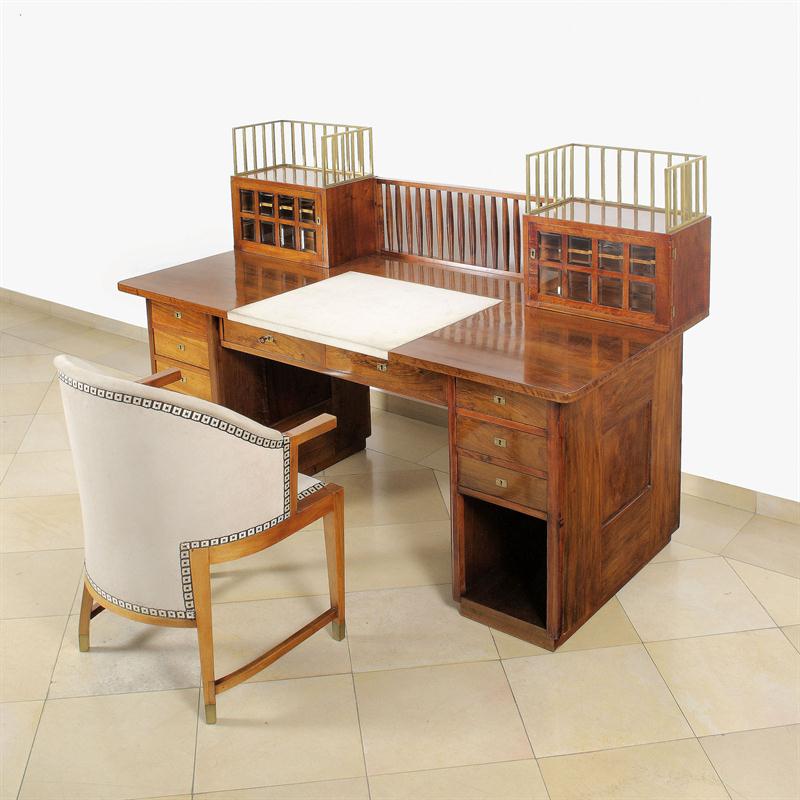 1870 Pirnitz, Moravia 1870 - 1956 1956 Vienna
Writing Desk and Armchair
from the apartment of Magda Mautner-Markhof, Vienna
Manufactured by the Wiener Werkstätte
Walnut, stained mahogany, hammered brass fittings
Desktop with new leather, chair with new leather upholstery
Desk: H 80 + 28 cm, W 156 cm, D 74 cm
Chair: H 89 cm, W 50 cm, D 50 cm
Provenienz:
Apartment Magda Mautner-Markhof, Vienna
Ausstellungen:
Desk and chair are presented until 19 June 2022 in the exhibition "Josef Hoffmann. Fortschritt durch Schönheit" at the MAK, Vienna.
Literatur:
Deutsche Kunst und Dekoration, vol. 19, 1906/07, ill. p. 490
WW Archive, MAK Vienna, Phot Archive WWF 103-141-1
Exhibition catalogue "Josef Hoffmann 1870-1956. Fortschritt durch Schönheit. Das Handbuch zum Werk", ed. by Christoph Thun-Hohenstein, Matthias Boeckl, Rainald Franz and Christian Witt-Dörring, MAK, Vienna 2021/22, ill. p. 74, no. 28f.